Home Remodeling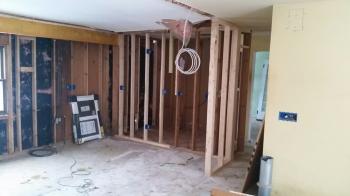 When you love your home, and don't want to move, there are sometimes just one or two things that you would really like to have changed. Why not give Ambassador Homes a call today and see how our team of professionals can help! We pride ourselves in being one of the top home remodeling companies in the Rockford region. We offer first class customer service from the initial consultation through the construction process and with follow-up care after completion.
We can assist you in all of your remodeling needs. See our sections on
Additions, Basement Remodeling, Bath Remodeling, Kitchen Remodeling
. There are additional ways that we can help. Maybe you're tired of choppy separate rooms and ready for an open concept? Maybe you want to convert an awkward open space into a first floor laundry? Or maybe you always wanted direct access from your family room to the back yard? And maybe there needs to be a nice new deck on the other side of that patio door? Whatever you want to have improved, we are ready to discuss your options and develop a customized plan to accomplish that goal.
Contact Us And Let's Get Started